ANALYZE SMARTPHONE EVIDENCE FROM
THE MOST SOURCES
No single tool recovers everything. Make AXIOM Smartphone an essential part of your toolkit:
Magnet AXIOM Smartphone is the leader in recovering chat, picture, video, and browser history evidence
Use AXIOM Smartphone's advanced carving and extensive support for third party apps to find more deleted, encoded or encrypted data. Recover evidence from the leading mobile apps including WhatsApp, Facebook, Instagram, Snapchat, Twitter, and more.
AXIOM Smartphone is the only solution that leverages both smartphone and computer artifacts when carving and searching smartphone data – discovering more PDFs, Docs and .xls files.
DID YOU KNOW?

Run a Micro SD card image through AXIOM as an Android platform. AXIOM will parse and carve it like a file system to retrieve artifacts that most other tools might miss.
Get the most data from iOS devices with GrayKey
and the best analysis with Magnet AXIOM.
Find out more about the exclusive partnership between Grayshift and Magnet Forensics.
The Most Collaborative Tool in your Kit
Each case requires multiple tools to find the most evidence and verify results thoroughly. AXIOM Smartphone can easily ingest phone extractions from other tools, including Cellebrite, Grayshift, Oxygen Forensics and MSAB. Run those extractions through AXIOM Smartphone's powerful evidence recovery engine.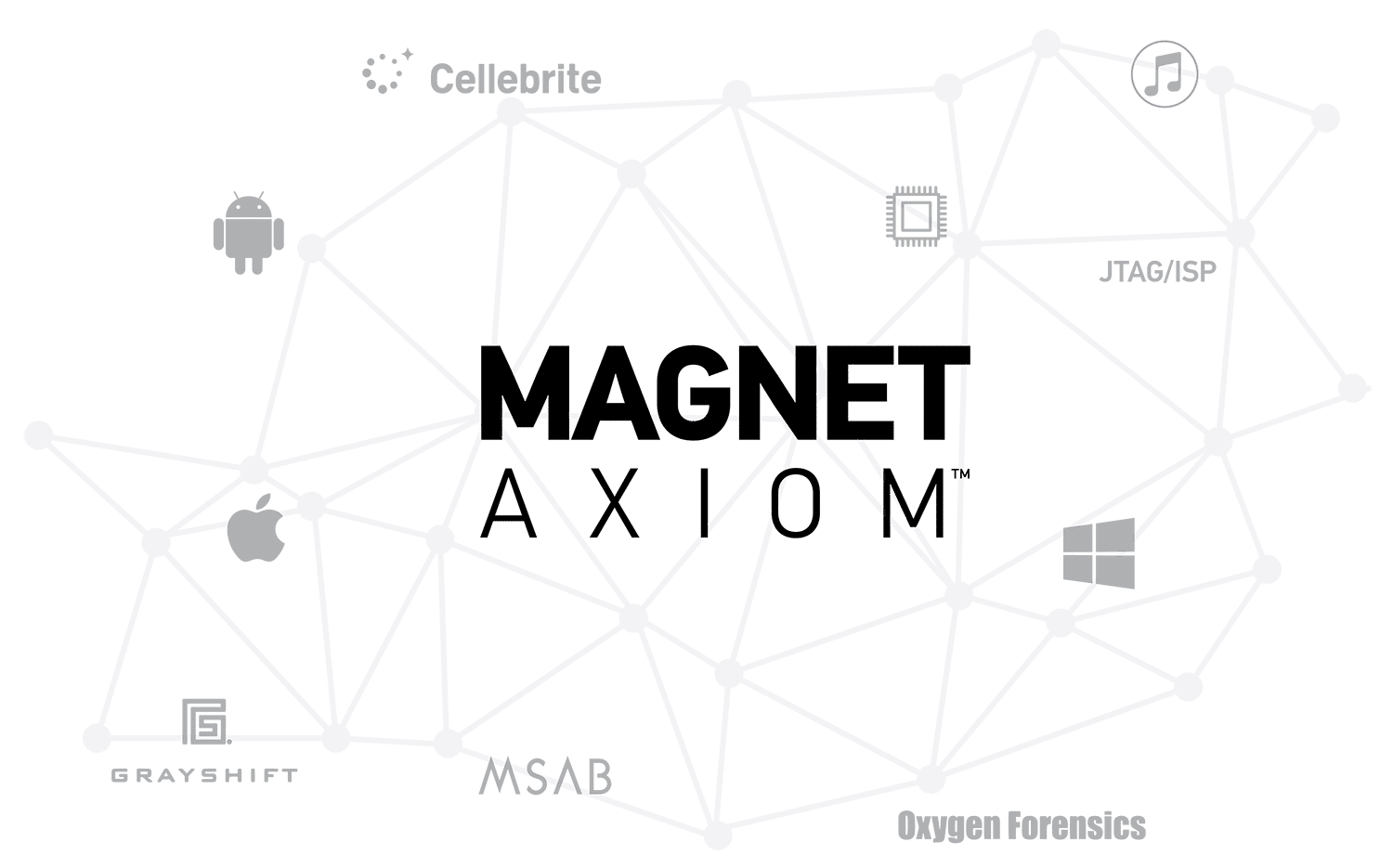 DID YOU KNOW?

Once you have recovered all the smartphone evidence, add it to cloud and computer evidence and analyze it all together in AXIOM for a complete view of the case.
Schedule a demo to see the power of AXIOM Smartphone artifact recovery and analysis.
Schedule a demo
AXIOM USES MACHINE LEARNING TO FIND KEY EVIDENCE QUICKLY
Finding the evidence you need has never been easier. The Magnet.AI module, an industry-first machine learning technology, searches both text-based and media content to automatically identify nudity, weapons, drugs, and sexual conversations.
Introducing Magnet.AI: Putting Machine Learning to Work for Forensics
UNCOVER AND VISUALIZE RELATIONSHIPS BETWEEN ARTIFACTS, DEVICES, AND SUSPECTS
Don't spend hours manually uncovering links between artifacts, devices, and people - use Connections to quickly discover the full history of a file or artifact to build your case and prove intent.
Connections identifies associations between suspects and victims through instant messaging apps and social media.
DID YOU KNOW?

Additionally, AXIOM's built in Plist viewer and SQLite viewer, make it easier to view, recover and analyze iOS and other smartphone evidence.
Identify New and Unknown Applications
How many apps have chat, geolocation data, URLs, and person identifiers that most tools will never find? Dynamic App Finder (DAF) in AXIOM automatically finds potential chat databases along with other valuable evidence from non-chat apps that aren't yet supported in an artifact.
DID YOU KNOW?

AXIOM users can then easily create an XML or Python artifact to be searched for in future cases.
Industry-leading artifact recovery from JTAG and chip-off images
AXIOM Smartphone is device-agnostic and can grab information from JTAG/chip-off extractions and load the evidence into AXIOM to leverage our powerful examination capabilities.
JTAG and chip-off are the only methods to recover data off most Windows phones, and AXIOM will take the evidence and organize it into a format that is easy to analyze and report.
THE GOLD STANDARD FOR USABILITY
You can't afford to spend days teaching yourself and your peers how to use poorly designed software. AXIOM's intuitive interface makes it easy for anyone to hit the ground running.
Get a live product demonstration from one of our AXIOM experts.
Schedule a demo >